Nufit Piping Solutions is one of the biggest maker and provider of ASTM A350 LF2 Carbon Steel Flange in India. Our offered products are absolutely designed utilizing best accessible methods. These ASTM A350 LF2 Carbon Steel Flange are having some great elements like Wear resistance, Resistance to plastic misshapening, Chipping resistance, Total splitting resistance, Good machinability and pound capacity, Good Fabric capacity, Strong and Tough Construction, Durable, Resistant to plastic disfigurement, Durable, High elasticity, and so on.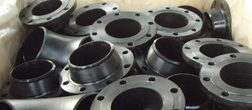 These ASTM A350 LF2 Carbon Steel Flange are produced under the supervision of master experts by making utilization of the finest quality material. To satisfy the expanded requests of our customers, we offer these products in different particulars. Our ASTM A350 LF2 Carbon Steel Flange are open to our significant clients in various and modified scope of distances across, divider thicknesses and sizes at showcase driving costs.
| | |
| --- | --- |
| Specifications | ASTM A350 LF2 / ASME SA A350 |
| Grade | ANSI/ASME LF2, LF3, F42, F46, F48, F50, F52, F56, F60, F65, F70 |
| Dimension | ANSI/ASME B16.5, B 16.47 Series A & B, B16.48, BS4504, BS 10, EN-1092, DIN, etc. |
| Standard | ANSI Flange, ASME Flange, BS Flange, DIN Flange, EN Flange, etc. |
| Material | ASTM A350 LF1, LF2 CL1/CL2, LF3 CL1/CL2 |
| Size | 1/2" to 48" |
| Class / Pressure | 150#, 300#, 600#, 900#, 1500#, 2500#, PN6, PN10, PN16, PN25, PN40, PN64 etc. |
| Flange Face Type | Flate Face (FF), Raised Face (RF), Ring Type Joint (RTJ). |
| Form | Slip-On Flange (SO), Blind Flange (BL), Lap Joint Flange (LF) Socketweld Flange (SW), Weld Neck Flange (WN), Long Weld Neck Flange (LWN), Ring Type Joint (RTJ), Threaded Flange, Customised Flange with Raised Face (RF), Flat Face (FF) |
Nufit Piping Solutions India have exported LTCS ASTM A350 LF2 Carbon Steel Flange to over 60 countries including Sudan, UAE, UK, Iran, Iraq, Qatar, Bahrain, Oman, Yemen, Lebanon, Jordan, Saudi Arabia, Malaysia, Indonesia, Singapore, Australia, New Zealand, USA, Canada, Mexico, Brazil, Netherlands, Germany, Italy, Spain, Serbia, Kuwait, Peru, Nigeria, Poland, South Africa, Denmark, Turkey, Egypt, Venezuela, Kuwait, Madagascar, Angloa, Srilanka, etc.
+91 - 22 -6617 2569
/
2242 3168
sales1@nufitpiping.com
OUR SUMMARY:
Reviewer
Review Date
Reviewed Product
LTCS ASTM A350 LF2 Carbon Steel Flange Manufacturer & Supplier
Author Rating