Nufit Piping Solutions is one of the main Manufacturer, Exporter and Supplier of Stainless Steel Bar, Rod and Wire utilizing top notch crude materials. We offer SS Rod and Wire that are incredible resistance to corrosion. These SS Bar, Rod, and Wire are generally utilized as a part of different applications industry like building and development section, car industry and house hold machines and so forth.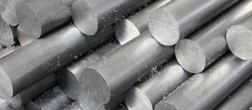 These bars are acknowledged for toughness, high elasticity and completing and can likewise be modified according to the necessities of our customers. We likewise offer these SS Bar, Wire and Rod are accessible in different determination in our customers necessities.
Standard
ASTM, ASME, AISI A 276 , SA 276, A 479, SA 479, A182 - 201, ASTM A276, ASTM A479, AL-6XN (N08367), A286 (S66286)
Grade
Stainless Steel 201, 202, 301, 302, 304, 304L, 309, 310, 316, 316L, 316LN, 317L, 321, 330, 347, 405, 409, 410, 416, 420, 430, 431, 440C, 17-4Ph, 904L
Range
3.17 MM TO 350 MM DIA
Size Tolerance
h8, h9 (DIN 671), h10, h11,ASTM A484, DIN 1013
Diameter
25mm to 152 mm
Finish
Bright, Polish & Black
Form
Round, Square, Hex (A/F), Rectangle, Wire (Coil Form), Wire-mesh, Billet, Ingot, Forging Etc.
Condition
Cold Drawn & Polished Cold Drawn, Centreless Ground & Polished
Nufit Piping Solutions India have exported Stainless Steel Rod, Bar & Wire to over 60 countries including Sudan, UAE, UK, Iran, Iraq, Qatar, Bahrain, Oman, Yemen, Lebanon, Jordan, Saudi Arabia, Malaysia, Indonesia, Singapore, Australia, New Zealand, USA, Canada, Mexico, Brazil, Netherlands, Germany, Italy, Spain, Serbia, Kuwait, Peru, Nigeria, Poland, South Africa, Denmark, Turkey, Egypt, Venezuela, Kuwait, Madagascar, Angloa, Srilanka, etc.
+91 - 22 -6617 2569
/
2242 3168
sales1@nufitpiping.com
OUR SUMMARY:
Reviewer
Review Date
Reviewed Product
Stainless Steel Rod, Bar & Wire Manufacturer & Supplier
Author Rating