As an acclaimed venture of the business, Nufit Piping Solutions is associated with offering a huge swath of Copper Alloy Instrumentation Tubing and Fittings as a producer, stockiest and provider to our household and worldwide customers. We hold capability in giving our clients by methods for a higher quality assortment of these products. We offer our Copper Alloy Instrumentation Tubing and Fittings in most profitable range to our clients.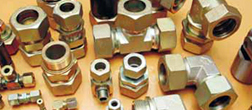 All things considered, it has some of the top notch components, for example, they are Totally tried, Dependable, Finest quality, Elevated tractable intensity, Precise measurements, Anti-destructive body, and considerably more. In the interim, as for national and global nature of crude materials, we additionally offer these Copper Instrumentation Tubing and Fittings in modified sizes and thicknesses according to particular requests by our regarded customers at showcase driving costs.
Specifications
ASTM A276 ASME SA 479
Grades
Commercial, ETP, OFE, CuNi 90/10 (C70600), CuNi 70/30 (C71500), Brass, Naval Brass, Aluminium Bronze, Admiralty Brass.
Tube Size
1/16"OD to 2"OD, 2mm OD to 50mm OD
Thread
NPT, BSP, BSPT, UNF, ISO, SAE etc.
Working Temp.
-20-120┬C(-65┬ to +250┬F)
Working Pressure
PN16(1.6MPa,230psi)
Pressure Rating
6000PSI for Stainless Steel, 300/1000/3000PSI for Brass
Specifications
ASTM A276 ASME SA 479
Brass
ASTM B16 ASTM B 453
Material Grades
Stainless Steel 304, Stainless Steel 316, Brass, Special Alloys, 20#,1Cr18Ni9Ti
PTFE Standards
ASTM D1710, ASTM D3294
Applicable temperature
150-400°C
Form
Union, Elbow, Tee, Cross, Male Connector, Female Connector, Reducer, Adapter, Cap, Plug, Nut Front Ferrule, Back Ferrule, Tube Insert, Needle Valve, Ball Valve, Plug Valve, Check Valve, Relief Valve, Instrument Manifolds, Cryogenic Valve, Bleed Valve, Purge Valve, Diaphragm Valve, etc
Nufit Piping Solutions India have exported Copper Alloy Instrumentation Fittings to over 60 countries including Sudan, UAE, UK, Iran, Iraq, Qatar, Bahrain, Oman, Yemen, Lebanon, Jordan, Saudi Arabia, Malaysia, Indonesia, Singapore, Australia, New Zealand, USA, Canada, Mexico, Brazil, Netherlands, Germany, Italy, Spain, Serbia, Kuwait, Peru, Nigeria, Poland, South Africa, Denmark, Turkey, Egypt, Venezuela, Kuwait, Madagascar, Angloa, Srilanka, etc.
+91 - 22 -6617 2569
/
2242 3168
sales1@nufitpiping.com
OUR SUMMARY:
Reviewer
Review Date
Reviewed Product
Copper Alloy Instrumentation Fittings Manufacturer & Supplier
Author Rating